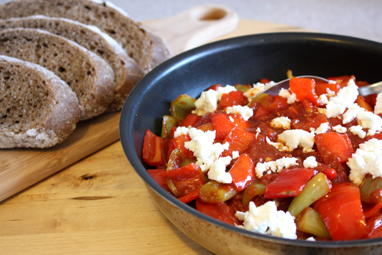 I have my very last bag of baba's home grown chillies, so with limited time I decide to make a no-fuss chilli and tomato spread for lunch. It's similar to lutenka but a fraction of the effort (only 15 minutes), and it's eaten fresh rather than stored.
The best way to enjoy this village style dish is straight out of the pan, place it in the middle of the table and share with lot's of fresh bread to mop up all the yummy juices.
……………………………………………………………………………………
Recipe
Serves 4-6
Ingredients
8-10 red and green banana chillies (also known as Hungarian or bullhorn chillies, if unavailable replace with 2-3 red and green capsicums)
250ml (1 cup) Italian style tomato passata
100g feta cheese, roughly crumbled
Olive oil
Sea salt to taste
Method
1) Wash and dry chillies, discard stems and seeds, roughly chop.
2) Heat a medium pan (medium-high heat), coat base with olive oil, add chillies and sprinkle with salt, stir frequently to avoid from burning or browning too quickly, fry until fragrant (5-7 minutes). Reduce heat to medium, add tomato and extra salt to taste, stir and fry until fragrant (2-3 minutes).
3) Remove from heat, add feta cheese and stir through. Serve in the middle of the table with fresh bread.
Tip: The easiest way to de-seed chillies is by cutting the top off and discarding the stem, then cut in half lengthways to remove the seeds and membrane, you'll find a helpful image within the Rustic Fried Chillies with Eggs and Cheese recipe.